Deliver Multiple Demand Response Solutions
Retrofit and control heaters already on the grid
Forty percent of the world's homes use electric resistance water heaters. In some hard to reach communities like renters, that percentage may be double. Every water heater needs about 8 kWh to 15 kWh daily to provide the hot water needs of the family or small business user. Through our patent-pending controller and software, we manage when a water heater consumes power. Shifted Energy can balance the hot water needs of the resident(s), while simultaneously providing multiple demand response services to the grid operator. All of our aggregated demand response services are available over our secure portal through a secure API which meets or exceeds strict cybersecurity guidelines.
Fast Frequency Response
Our system allows frequency setpoints in .01 hertz increments for local, fast frequency response. At all times via the portal or API, total capacity to shed or receive load via FFR is calculated via our machine learning algorithms. This can also be reviewed 24 hours or more in advance. At the firmware level, each heater measures frequency constantly and will shut off within 12 cycles of measuring an under-frequency event or turn on heaters when measuring an over-frequency event. The heaters will remain off until a second configured setpoint is measured. The system will then allow all heaters to return to normal operation, turning on heaters at a controlled rate to evenly distribute the returned load to the grid in a specified time. Heater groups can be created that can have different or no frequency setpoints. Below is our portal interface for configuring a heater group's frequency specifications.
Load Shifting
Our system allows loads to be shifted from one point in the day, such as a peak load period, to another point in the day, such as periods expected to generate solar PV power. Via the portal or API, day ahead forecasts that are estimated by our machine learning algorithms calculate total load shifting capacity. It's not symmetrical. On some days, more capacity may be in load shedding than load building based on current conditions. Actual capacity is based on usage patterns and estimates, with prior reporting is available via our portal. This portal enables the grid operator to set: the day for load shifting, load build times, and load reduction times. The system then calculates maximum capacity available to shift load, and the load shift event will trigger on the day and times selected. The following screenshot shows the load shift interface of our Shifted Energy portal.
Regulating Reserve
Our system can connect to regulating reserve signals and can follow load increase and decrease commands. Our machine learning system constantly calculates the maximize load increase and decrease capacity and controls the fleet of aggregated water heaters to meet regulating reserve requirements while maintaining adequate hot water for each particpant.
Emergency DR
Our system constantly estimates the total load that can be shed at any time and allows for immediate or scheduled complete fleet shutdown. Heaters can be grouped so emergency DR capacity can be relagated to clusers, regions, types, or any other type of organization.
Under Frequency Portal User Interface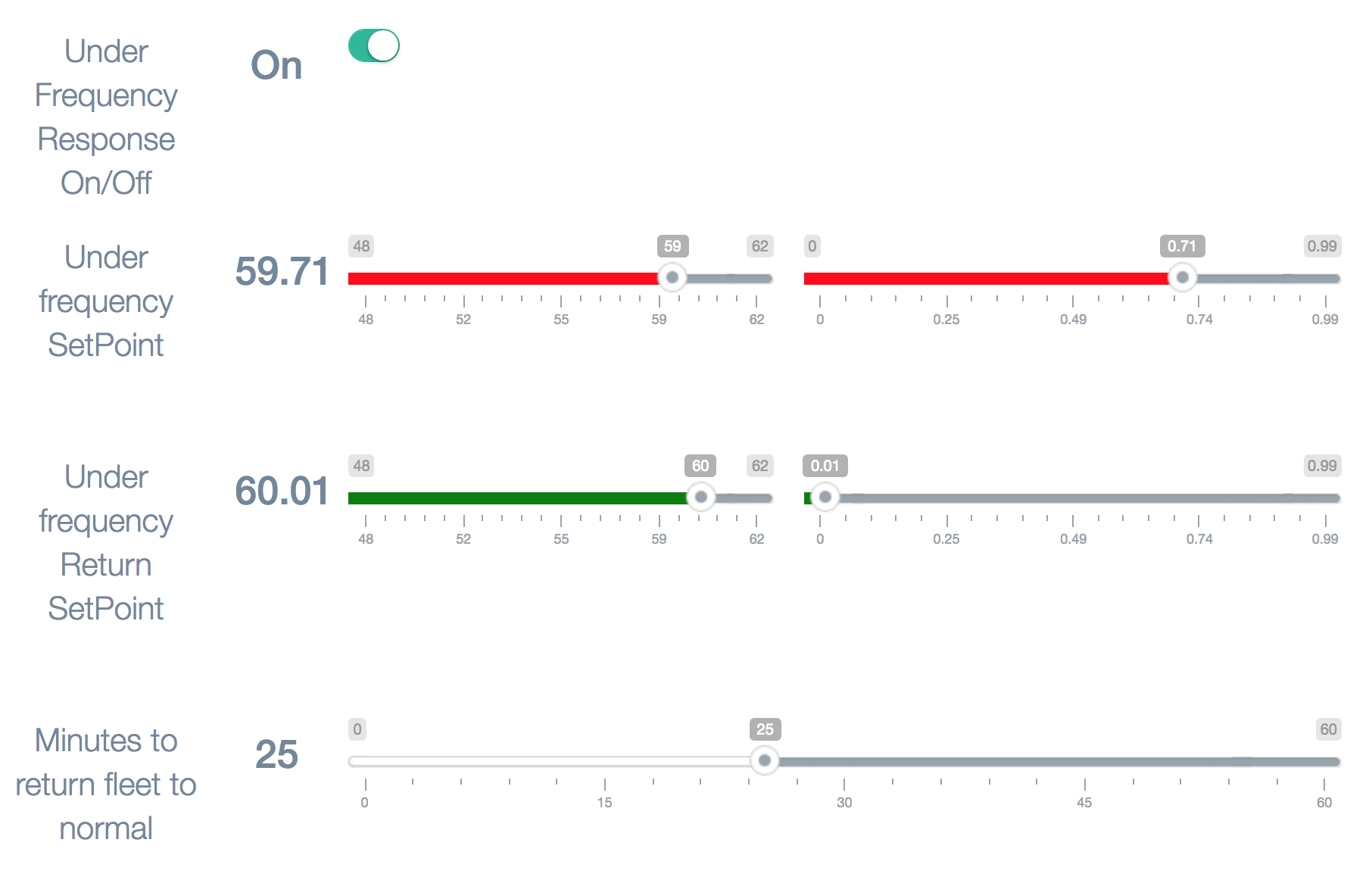 Load Shift Portal User Interface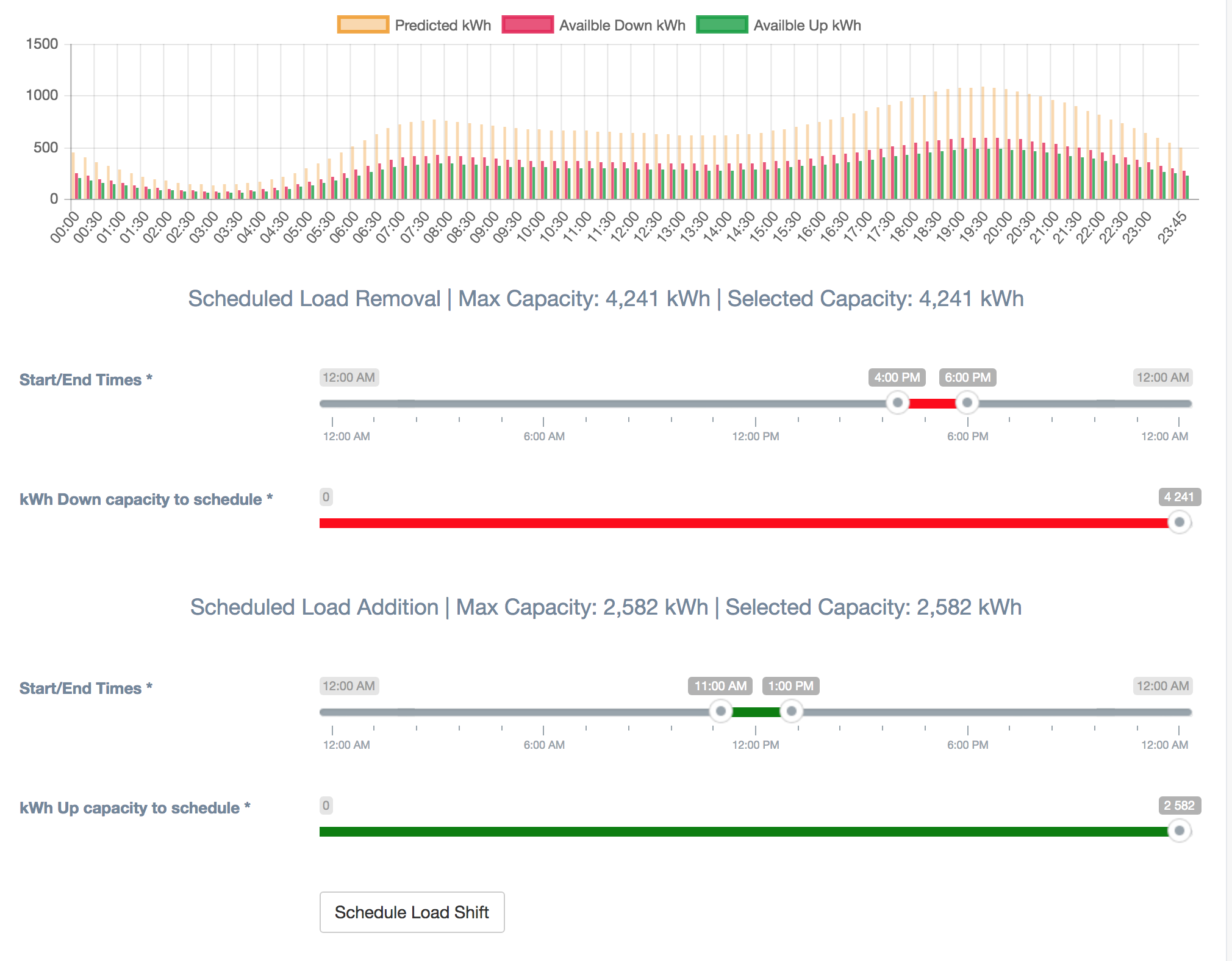 Emergency DR Portal User Interface