The project's goals are to verify and evaluate the energy performance and consumer perception of heat pump water heaters in Hawaii, quantify the individual and aggregate load shifting potential through CTA-2045 controls, and demonstrate a cost-effective pathway to combining energy efficiency rebates and demand response incentives to drive energy upgrades for hard-to-reach communities.
HONOLULU, March 21, 2022 – Shifted Energy, Inc., provider of turnkey, customer-friendly distributed energy monitoring, forecasting, aggregation and management solutions, is leading a project funded by Hawaiʻi Energy to bring energy efficient and grid-interactive heat pump water heaters to hard-to-reach and indigenous communities in Hawaii. The program will provide critical data and insights to Hawaiʻi Energy on the energy savings and grid-interactive potential, as well as best practices for installation, operation, and maintenance of the equipment.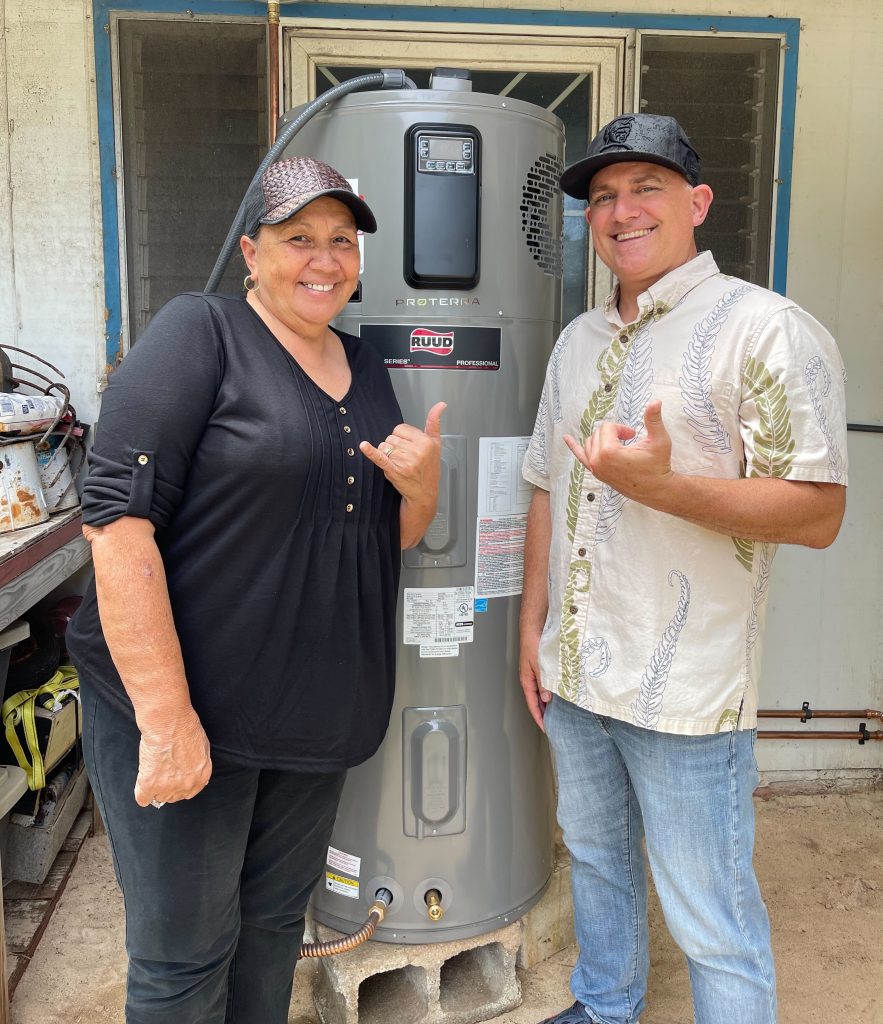 Shifted Energy is replacing traditional electric water heaters or non-functional water heating systems with a fleet of new heat pump water heaters in the homes of Oʻahu residents who have enrolled in the "Nalo VPP" Program. The Program focuses on residents of Hawaiian Homesteads in the Waimānalo community. For most local families, the water heater is the largest user of energy in the household, and this advanced technology can increase the energy efficiency by up to 60%. These heat pump water heaters are also being equipped with Shifted Energy CTA-2045 smart controllers to convert them into grid-interactive assets. These assets are then aggregated, monitored and managed by Shifted Energy's virtual power plant software platform – Grid Maestro – to provide peak load reduction and thermal energy storage to Hawaiian Electric.
"We are so excited to work with Shifted Energy to support the deployment of grid-interactive heat pump water heaters in our communities. New to the efficiency portfolio, these smart devices will not only provide customers with energy bill savings but also help to inform future grid flexibility programs in order to meet our clean energy and decarbonization goals," said Caroline Carl, Deputy Director at Hawai'i Energy.
Participants who enroll in the Waimānalo VPP Program benefit from the complete installation and equipment-life maintenance of a new water heater. Participants receive the heat pump water heater, professionally installed and maintained at no cost. Each family in the Program directly benefits from monthly energy savings, as well as the opportunity to participate in Hawaiian Electric grid services programs for ongoing bill credits. The Program expands participation and equitable inclusion in the achievement of Hawaiʻi's clean energy goals.
The grid services provided include "solar sponging" or increasing load when solar energy is at its peak, peak load reduction, and emergency demand response. When not needed by Hawaiian Electric, Shifted Energy will utilize their advanced machine-learning based software to optimize the smart water heaters for time-of-use bill management, maximize energy efficiency, and provide preventative maintenance.
"This project highlights the importance of flexible electrification. First, we need to make sure heat pump water heaters are accessible for all, which means providing rebates and incentives for renters, multi-family homes, and those lower on the socio-economic scale. At the same time, ensure they are controllable so that we can combine the benefits of energy efficiency with demand response." said Forest Frizzell, Co-founder & CEO at Shifted Energy. "We are very excited about this project as this is the future of residential water heating electrification, which we plan to replicate worldwide".
Shifted Energy partners with utilities, facility and property managers, and distributed energy technology OEMs to deploy turnkey grid-interactive efficient building and community projects around the world.